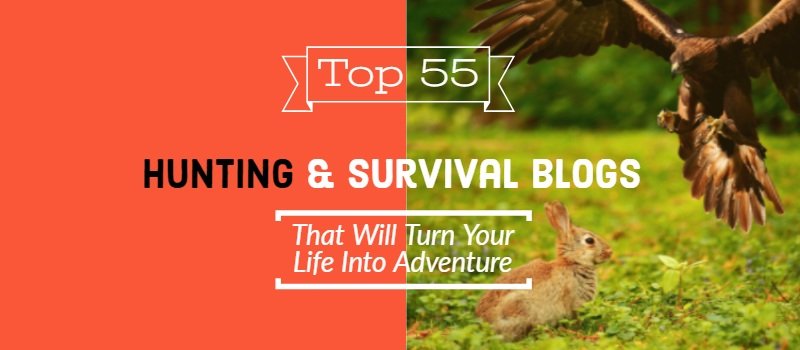 Have you ever wondered what if the impossible happens and you have to figure out how to hunt for your own food? Bullets ultimately disappear, and sometimes you need stealth instead. What if you have to use a bow in this situation as it is one of the most important skills a prepper can learn.
Well, not everyone plans to turn into a survivor someday, so learning survival skills aren't something most people worry about. Although, they need to be as you never know when you caught up a situation that you never had faced before. Check out reviews on crossbow. Many people would prefer to roll over when the lights go out or you can't go outside due to extreme weather conditions. Chances are, if you're reading this, that isn't you.
If you have a great passion for hunting then congrats, you're at the right place.
We have gathered an amazing collection of blogs related to hunting, preparedness and survival tips for you.
---
The Survivalist Blog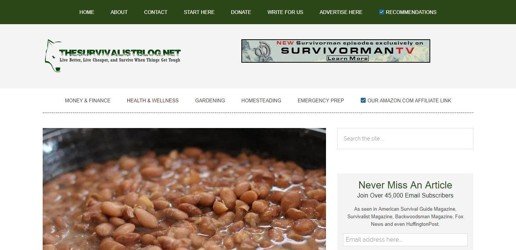 M.D. Creekmore, Paladin Press best-selling author is running this blog. At this website you will get a massive hoard of stories and news related to hunting.
If you want to learn the bushcraft and camping skills then this is a must to visit place. Here you'll learn how to trap and hunt anything that walks. you will find out some easy to follow survival trapping instructions, snares, deadfalls, live box traps as well as you will get a chance to gain knowledge of building primitive shelters.
---
Off Grid Survival

If you want to know anything or everything about hunting, fishing, camping, hiking then Robert Richardson founder and writer at Off Grid Survival is here for your guidance. The blog is one of the top emergency preparedness & survival websites in the world.
---
Ready Nutrition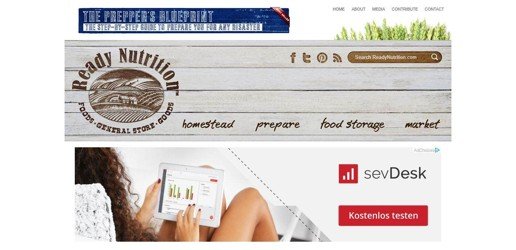 Going through a boring weekend? And don't what to do? Then do something productive and visit "Ready Nutrition". Here, Tess Pennington, who is the founder of Ready Nutrition have some incredible tips for vanishing your boredom. Here you will get amazing health and safety, food storage, Gun training skills, recopies and micro-farming. In a nutshell, this is your ultimate guide for travel and wildlife.
---
The Survival Mom

Life is so unpredictable. We have certainly no idea about the economy, national security, natural disasters, and the world is increasingly filling with threats more and more. Lisa Bedford, the owner of The Survival Mom is prepping and making sure you and your family is ready, no matter what happens! Most are preparing for a range of obvious real-world problems. Things like job losses, storms, power outages, and economic problems are a part of the blog's main categories.
---
American Preppers Network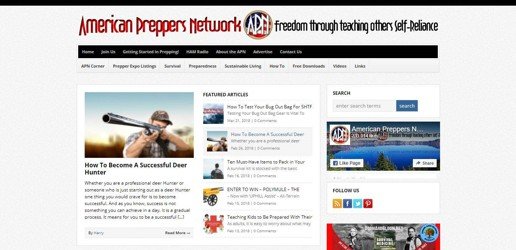 At American Preppers Network, you will find out everything you need to know about your survival kit. The website offers some great product reviews, hunting tips, how to videos and free downloads about survival and preparedness.
---
Modern Survival Blog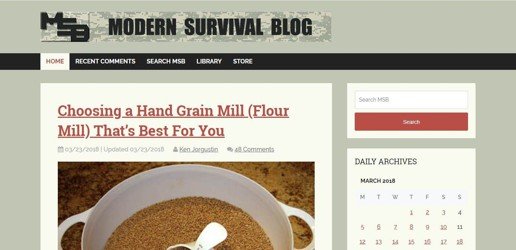 Ken Jorgustin, author of Modern Survival Blog has been writing only one of its kinds prepping & preparedness topics since early 2010.  He is providing information and ideas for prepping & preparedness in a modern world of uncertainty.
You'll never find a blog of preparedness like this; it is featuring articles with fresh content on a daily basis. Topics include many aspects of prepping and practical solutions for problems that we may face in a world and way of life filled with general risks.
---
Deer and Deer Hunting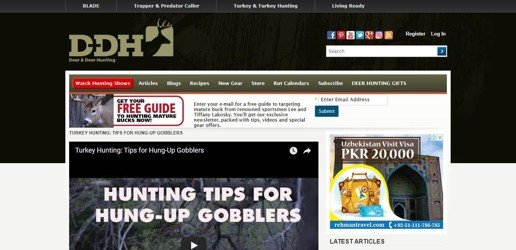 Deer & Deer Hunting is a great place for all those who fancy knowing the comprehensive and practical information about white-tailed deer and deer hunting techniques.  In addition, the magazine's achievement spawned the top-rated Deer & Deer Hunting TV show on Pursuit Channel.
Apart from tips and tools, D&DH produces some groundbreaking web shows, numerous books and countless educational media for all white-tailed lovers too.
---
The Survival Doctor

Have you ever wonder what if anytime you're isolated and get into a trouble? What will happen if you didn't get the professional help at the spot? In this case, "The Survival Doctor" is great with combination of science, improvisational medicine, and grandma's home remedies to deal with emergency.
---
The Prepper Journal

If you want to protect yourself and your family from seen and unseen disasters in future then "The Prepper Journal" is a right place for you. The new moderator, Wild Bill is running this daily survival blog.
This blog is devoted to a wide variety of preparedness, survival, self-reliance and personal defense topics for readers.
---
More than Just Surviving

The blog is run by a two-person team husband Thomas and wife Elise. It is simply a perfect place for those who want to explore more about bushcraft and wilderness survival aspects.
Moreover, they also talk a lot about gear, prepping, and a swing of other topics that relay back to the theme of living a survivalist lifestyle.
---
SHFT Blog.com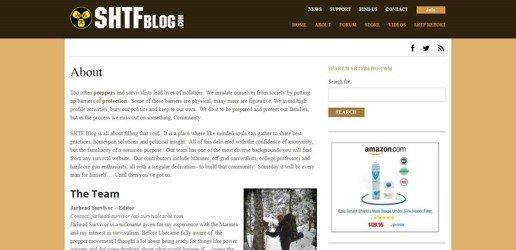 SHFT Blog.com is a great place for all those who have passion for hunting. It is community medium to share your adventures. Apart from remarkable collection of videos and articles, you can also buy the gears for hunting too.
---
Bow Hunting .net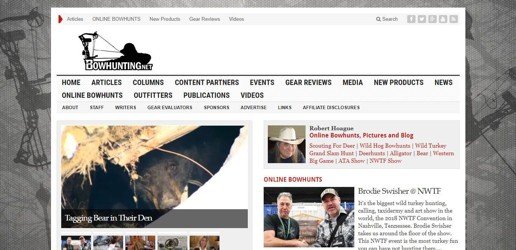 Bowhunting.net is one the great website that features a ton of bowhunting and archery articles, videos, product reviews and information covering the sport of bowhunting.
---
Bow Hunting .com

Bowhunting.com is another great website on bowhunting, which has every least detail about hunting. They also feature an amazing and startling series named "Bowhunt or die". You can also shop here the gears you needed for hunting adventures.
---
Hunting Life

HuntingLife.com is a national news source for hunting and conservation news. Here you will get product reviews, gear reviews and videos full of real-life hunting experiences.
---
Julie Golob

Julie Golob, the owner of blog is living her dream. Julie is national shooting champion, an experienced shooting instructor, woman of the outdoors, proud US Army veteran.
Here you will find out tips from shooting to firearm safety, gun rights and the latest in guns and gear to lifestyle posts with food, fashion and fitness. All in all, JulieGolob.com is more than a typical athlete site.
---
The Organic Prepper

The organic prepper is a hub of amazing collection of tips and tricks related to prepping about health, food and frugality. You can also get free books about preparedness from the blog owner Daisy Luther.
---
Mom with a PREP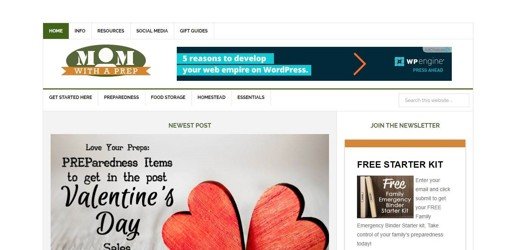 Mom with a prep is a blog dedicated to living a prepared life in food, supplies and deed.
If you're a mom who always wants to create a Family Emergency Binder then you're at the right place. It's an ideal place to help you and your family about emergencies.
---
Food Storage and Survival

Angela Paskett is a very knowledgeable source on family-based preparedness about food storage and self-reliant living.
He shares her real experience about gardening, sewing, animals care, bees, chickens etc.  She covers a wide range of topics related to food storage for self-sufficiency and survival.
---
Wired To Hunt

Mark Kenyon is running "Wired To Hunt". The core focus of this blog is on sharing deer hunting news, stories and strategies on a daily basis to satisfy the year-round thirst of the true whitetail addict.
Here you'll find industry-leading whitetail related content in the form of the written word, videos and also top-rated podcast.
---
Ed that Matters

Todd Sepulveda owns the blog. Todd loves to write on matters of preparedness. At this place you will get amazing tips and for educational and financial preparedness. Ed that Matters is place for every individual who love awareness of every matter.
---
Dave's Homestead

At Dave's homestead you will find articles on how to do things. I bet you at Dave's Homestead you are going to learn about weapons, emergency kits, foods, shelters, homestead and buildings, parenting lifestyle and much more.
---
Deer Hunting Field

Hunting is a passion which has existed in mankind since almost the beginning. Deer Hunting Field is a platform for every individual who want to learn wildlife and its happenings. The blog shares information and tips after than ever before.
It's a single place to get how know of careful choice that goes into a prepared hunter's kit from their boots, to their pack and to the weapon. How to track and stalk, build blinds and stands, and cautiously harvest our intended prey.
---
Northern Homestead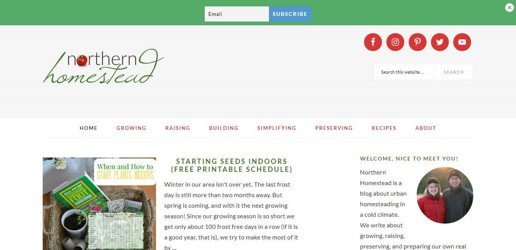 It is a great place to learn simple tricks about life of urban homesteading in a cold climate. Jakob & Anna share how they do things and some interesting information they find along their journey with their readers.
Here you'll get cold climate like Zone 3 gardening tips and tricks with amazing ideas. If you love to grow food using organic methods then this is right place for you. Moreover, you will get tips related to animals, recipes, preserving food, and building shelters.
---
Midwest Whitetail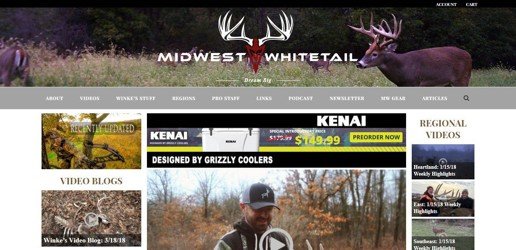 Midwest Whitetail is first and foremost an online hunting show.  The remarkable thing about this website is unlike television, they produce the show during the season.
There are also video tips, product reviews and related articles on the blog.
---
30 Cal Gal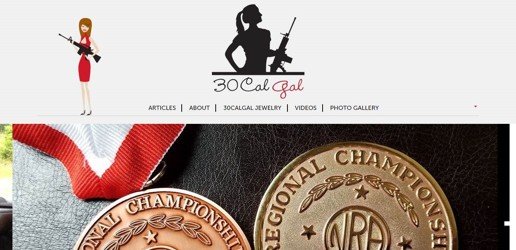 Anette Wachter also known as 30 Cal Gal runs her very own blog. She is a member of the United States National Rifle Team. Her blog is for all those people who love adventures and gun shooting.
---
Hunting Film Tour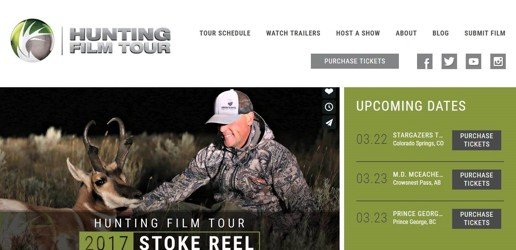 If you want to cherish the hunting moments then Hunting Film Tour is great place as you'll find here lots of series related to hunting experiences. It was established in 2013 and is modeled after the legendary Warren Miller Entertainment ski film tour.
Apart from amazing hunting series, you'll also get weapons information here.
---
The Will to Hunt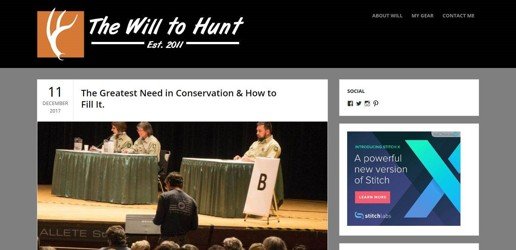 Will, a great hunter shares his experiences with the hunting community. He is passionate about bow hunting and conserving wild lands. At his blog you will get comprehensive info about bows, arrows, broadheads, binoculars, top quality optics, outerwear etc.
---
Driven Hunter

Pat and Nicole Reeve both got their start in hunting at a very early age and were taught how to hunt from whom they looked up to the most, their fathers.
You won't believe that Nicole shot her first deer at the age of six and since then has put many record book animals on the ground. So, in order to get info about latest driven gear and each minor detail, you need to visit this blog.
---
Living Life in Rural Iowa

Want to learn more prep ways when you have no support then this blog is a must to visit thing. Erica writes about preparedness, homesteading, frugality, parenting, and life in gene frugal living, homesteading, self-sufficiency and much more.
---
Sole Adventure

Sole Adventure is a place for many new and aspiring elk hunters to learn pursue their elk hunting dreams. You will get a bundle of tips related to hunting and diverse topics.
---
The Suburban Survival Blog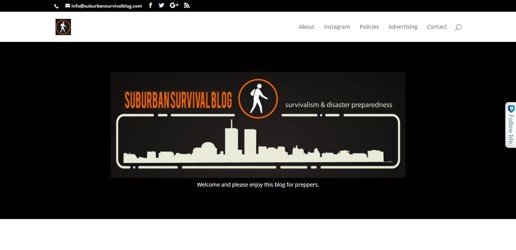 Who doesn't like the suburban lifestyle? Jack writes about suburban survival, prepping, and self-reliance out there to help others prepare for what could be a tentative future due to economic, weather, and other reasons.
---
Project Upland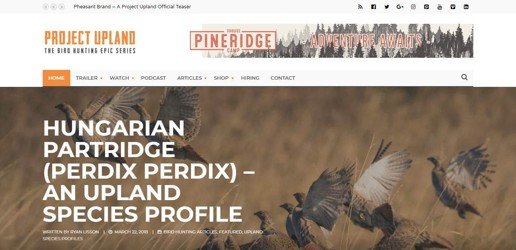 Project Upland is a film and literary program to capture the cultures and traditions of upland bird hunting. Best place for all newbie in hunting to inspire a new generation of upland hunters.
---
Deer Hunter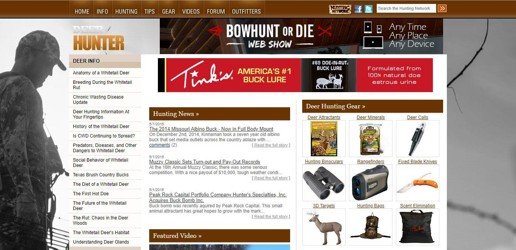 Deer Hunter is a complete and comprehensive guide about hunting. Here you will find out tips about hunting, gears info and web series show "Bowhunt or Die".
---
Morning Moss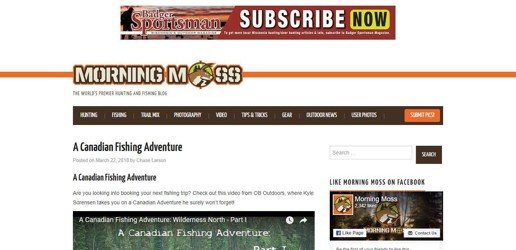 Do you love fishing? Or prefer hunting well, no worries if you're an outdoor person then will get amazing hunting, fishing and gear tips and tails. Apart from amazing content they also have an outdoor and trophy photos contest that is pretty cool though
---
The Big Game Hunting Blog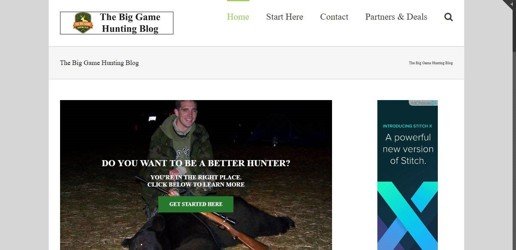 John McAdams has lots of content about hunting tips, strategies, gear reviews, and news. The blog is a useful resource for all hunters, but particularly those who are just getting started.
---
Addicted to the outdoors

The website is great place for all those couples who love outdoors. As, Jon and Gina are running amazing TV show for couples who've got the talent, drive and addiction to host their own, full-on episode of Addicted to the Outdoors. ATTO Crew has taken their search for outdoor-loving couples to the national stage.
---
Wired Outdoors

Wired out Doors is a hub of amazing videos about whitetails. There is a blog, videos, resources and more.
---
The Elite Product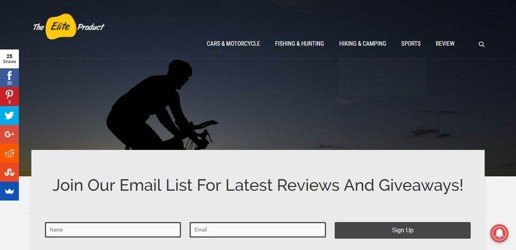 One of the best website about hunting, hiking, fishing & other outdoor stuff. The Elite Product is dedicated to the hunting, outdoor and gears tips. Here you will get the ideal equipment and tools info that you require for this particular activity.
---
Average Outdoorsman

At AverageOutdoorsman.com you can read articles related to hunting, fishing, and camping, boating, hiking, fitness and pretty much anything that is concerned with the great outdoors. It also performs different types of outdoor gear product reviews.
---
White Knuckle Productions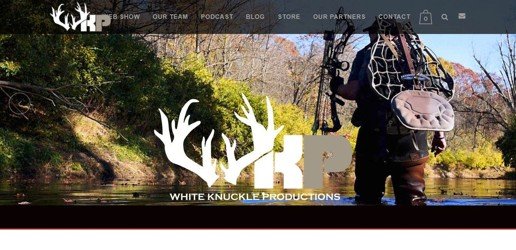 Have you ever witnessed everything behind a kill? If the answer is a no which probably is, then you need to visit White knuckle production where Todd Pringnitz has been hooked on bowhunting with direct and aggressive approach than what has ever been shown on film.
The shows are filmed all-over the mid-west and are 100% about bow hunting.
www.whiteknuckleproductions.com
---
Fowled Reality

Fowledreality.com is another great website where everything is about bird hunting. Here you will get incredible videos and detailed tips about ducks and goose.
---
Whitetail Habitat Solutions

For all those who have a will to learn about the woods, swamps and fields, Jeff Sturgis has something special to offer. At Whitetail Habitat Solutions, you will get mature buck hunting, herd and habitat techniques.
www.whitetailhabitatsolutions.com
---
Dialed in Hunter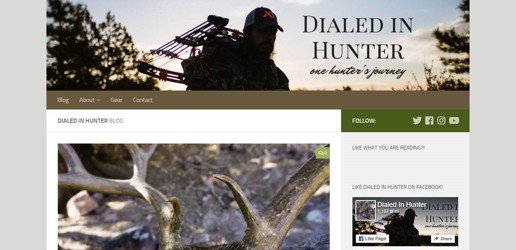 Do you want to know about the journey of Josh as a hunter and his quest to get dialed in with nature? Then visit the website as here you will get real content about a real passion for bear, elk, and turkey. Furthermore, gear reviews, tips and general hunting talk is also part of the blog.
---
IKE's Outdoors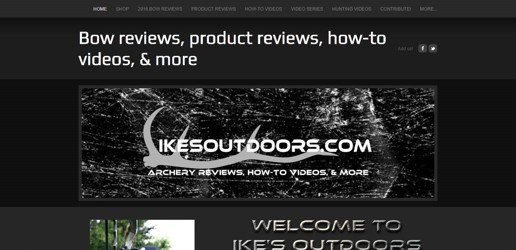 IKE's Outdoors is another amazing website which offers bow reviews, product reviews, how-to videos, & more about hunting.
---
Military Hunting and Fishing

(MHAF) is a website particularly dedicated to Active duty Military and Veteran members that enjoy the love of outdoors. It is extremely a great source getting hunting, fishing, product reviews and also some recipes.
---
Bill Howard outdoors

Bill shows a passion for the outdoors and hunting, particularly bowhunting. He also offers his teaching services to others, whether they are youth or adults new to hunting and fishing. He writes weekly about his astonishing experience in hunting field.
---
Hunting Insider

Do you want to indulge in inspirational stories of hunters across the world? In order to celebrate the hunting lifestyle brings the interviews of outdoor personalities, women of the outdoors, guides and experts, conservation leaders, industry leaders, writers and artists, and most importantly everyday hunters.
---
Bucks Bulls Bears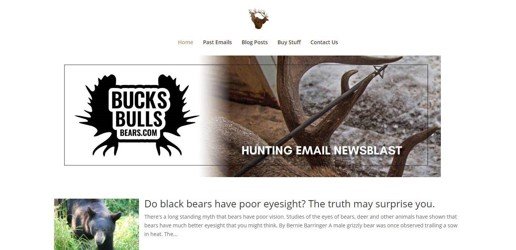 Bucks Bulls Bears.Com is another great website where you find out everything about wildlife. Moreover, there are some tools and tips, tech, stories and you can also buy books and DVDs related to hunting.
---
Whitetail DNA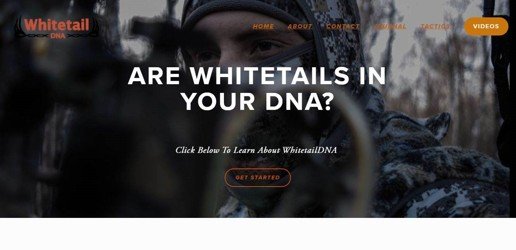 Surely this blog is for those peeps who purely think about whitetails nonstop. It's for the hunter that not only needs that whitetail itch scratched year around, but for the hunter that craves learning.
This is a deer hunting blog to get every minor detail about whitetails ranging from innovative tactics to resources and videos to get that whitetail fix for the day.
---
Lowell Strauss

Lowell Strauss, the owner of blog is a trainer in biology and geography and a wildlife conservation scientist by profession. He surely has an obsession for wild things.
It's a great blog for finding out the best, techniques, equipment, hand-forged barbeque tools, gears and recipes.
---
Zen Bowhunter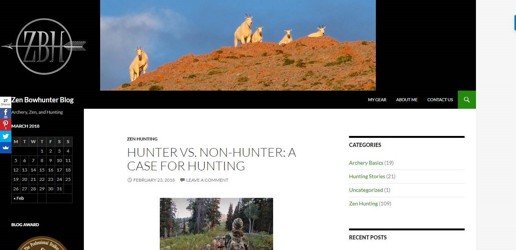 Zen bowhunter is another good website with fine content about bow hunting and its techniques. Nathan Allred shares his hunting stories at the blog. The goal of this blog is help hunters be more successful via education and a developing a deeper understanding of r relationship with the natural world.
---
World Slam Adventures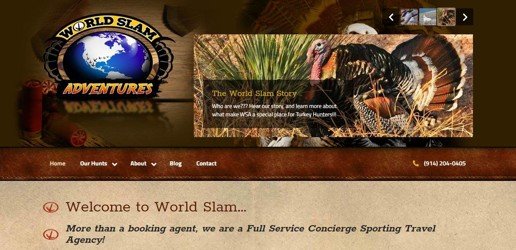 If you are an avid turkey hunter and always wanted of completing a world slam of turkeys then you need the best of the best in turkey outfitters, lodges and locations information. At this blog, you will get different recommendations and references from people who are known and trusted in the industry.
---
Chukar Culture

Another amazing website for passionate birds' hunters, particularly who love chukar. Here, you will come across with tips related to hunting birds, recipes, reviews and much more.
---
Zen Hunting

Zen Hunting is another impressive website that particularly deals about ducks and bird hunting. It has come up with a way to provide neophyte hunters with tips and advice on" what to do and not to do".
---
Doe and Arrow Hunting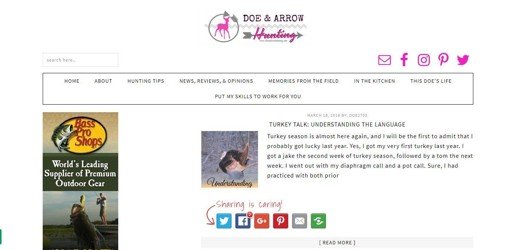 Kari is a passionate whitetail deer hunter. She shares her intense passion for the outdoors, especially bow hunting at her blog. Here you will get tips, , tricks, product reviews and some delicious recipes too.
doeandarrowhunting.com
We hope you like list and if you're a passionate hunter then the list of these blogs will defiantly crave your need to hunt more and more. Tell us in comment section what is your favorite survival blog?  Or do you run your own? Well, in that case you can drop the in comments so we can add yours into list to add more value.