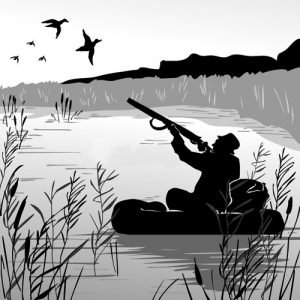 There are many hunting precautions that a hunter should take to save his hunting trip. Hunting on the water is different from hunting on the ground. Hunting from a boat means that you are in great danger, so you should take some solid measures to secure yourself.
If you have planned to hunt or fishing from your boat, you must be well equipped. You should have all the necessary equipment and proper information about the area. Before starting boat hunting, you should be familiar with the following precautions to make your trip memorable.
Understand your boat
Avoid overloading
Wear a Life Jacket or Personal Flotation Device (PFD)
Avoid the use of Drugs or Alcohol
Well Aware to the Weather Conditions
Hunting License and the Local Laws about boat hunting
Avoid Alone Hunting
Hunting with Confidence
Make sure to bring a trained hunting dog
Learn how to swim
Never Carry a Loaded Weapon
Understand your boat:
Understanding the boat is the essential precaution for water hunting, but the hunters mostly ignore that. It's a prevalent thing to understand your vessel before hunting form it. During water hunting, a strike of disaster can also destroy the boat, so a good hunter should know; will his craft stay afloat and capsize in this situation?
An important thing to keep in mind that your safety and life are based on your boat. A proper understanding of your boat can save your life. One more thing never stands in your ship for photos or any other item because otherwise, the ship loses balance. Try to take shots in a seated position.
Avoid overloading:
Overloading is one of the leading causes of boat accidents. It's essential to carry load according to the capacity of your boat. Overloading can unstable and tend to tip over your ship. The weight of your ammunition, dog, and firearms must be in the limit that a boat can carry easily.
You should just pack the necessary items on the boat and try to leave the unnecessary thing on the shore or put them in your car. You must have a GPS, torch, and first aid kit on your boat.
Wear a Life Jacket or Personal Flotation Device (PFD):
If you are going hunting on your boat, then a life jacket or PFD is essential for you. Whenever you go near the water, you should always use it because it's a piece of cloth that can save your life. If hunting is your hobby, then you must have your PFD on your boat. That's why you must have a PFD in good working condition. Many hunters don't wear life jackets or PFDs because they think that the color of life jackets or PFD can alert the ducks or other animals, but that is not a good reason to ignore this life-saving tool.
Wherever you are going or whatever you are doing, safety should be your priority. Unfortunately, boat accidents are common in hunters because they do not give such importance to safety measures. Every individual accompanying you must have a PFD on the ship and in a fantastic condition. Hunters ignore PFD and lifesaver coats because they alert ducks and other animals but this shouldn't be a reason. There are camouflage PFD and lifesaver coats out. The PFD fitted on your body in accordance with the directions and should be worn the ideal way. Do not shy away requesting assistance if you have never worn any earlier.​
A PFD should always be used in the following crucial conditions:
If visibility is limited
If you're boating alone
When you saw the first sign of bad weather
When hunting is critical in water
In any emergency condition
Avoid the use of Drugs or Alcohol:
For good hunting experience, the best mental and physical condition is critical. If you are not physically or mentally active, then it's challenging to recognize the threat and response to it. The use of Alcohol or Drugs may lead you towards resinous destruction.
As you know, drugs and alcohol can slow down your mental or physical reaction so, that may cause a boat accident as well. For boat hunting, it's essential for you that you should be in your best mental and physical condition.
Well Aware to the Weather Conditions:
Weather is another that can disturb your boat hunting trip. A proper understanding of the local weather is essential for a good boat hunter. If there is a prediction of rough weather, then you should cancel your boat hunting trip.
Wherever you are hunting, it's essential for you to know what the weather is doing. Bad weather conditions can cause boat accidents. So if you think that the weather is going to severe, you should cancel or delay your hunting trip. That is another important precaution that you should take before going for a boat hunting trip.
Hunting License and the Local Laws about boat hunting:
Another essential precaution for boat hunting is that you must have a hunting license. A good hunter always brings a hunting license in his pack. You can keep your hunting license on your body, or you can also put it in your pocket because wherever it is required, you can very easily present to the regarding authority. Local laws for boat hunting can be changed with time. And a good citizen always follows the law. If you don't want to go against the law, then you should review the local rules for boat hunting to avoid any criminal activity. Cities that allow for hunting will need a permit. This will be determined by the people of this animal and the time of year. It's essential that before searching on a ship, you make sure you have the documentation that is proper to do so.
This means using a boating permit, gun license, and hunting license. For those who have a mix of individuals that want to fish and hunt, make sure that they have their fishing license. It is essential that if you have your licenses, you know what, if any, the constraints are. Understanding the rules and regulations surrounding boating and hunting will result in a stress-free and more pleasurable time, while some do, as some countries don't allow hunting on a ship for games. It is to have because you were not sure what could and could not be accomplished, to pay a fine.
Avoid Alone Hunting:
Hunting is a kind of activity which can give you pleasure and memories. If you want to enjoy more on your hunting trip, then you must have a friend or any other person to talk and laugh. And this company can lead to a safe journey. You both can help each other in bad weather conditions or cases of any threat. So if you have planned to go alone for hunting, then you should add another person in your plan and go with his company. Your partner can easily help you if something goes wrong.
Hunting with Confidence:
Some of the security precautions that you would take searching on a ship are the same security precautions you would take boating or hunting. The one difference is there are security measures that will need to be taken or some more steps and that you're mixing both. That the weight isn't too much for the ship from understanding what can and cannot be hunted to ensuring. Hunting can be an experience that is enjoyable and peaceful; however, taking under the account or not following the safety measures can be harmful. Go out on the water, if it's your first time searching on a ship.
Get familiar with your gun but also with the road. If there are waves or ripples in the water, it might be daunting trying to equilibrium or reload on a ship. Boating and contacting your town's municipality can provide the information to you. Make certain you go above and beyond, and It's much better to be safe than to risk injury.
Make sure to bring a trained hunting dog:
A hunting dog ought to be prepared and well-trained if you will bring one to ride a boat. Just because he is a fantastic hunting dog doesn't indicate that while on the water that he can write himself. In cases like this, while on water, you need to test your hunting dog's skills. I guess it is safe if he does not show any signs of distress while taking him. Be certain he also obeys commands. If you would like to be safe, most dogs can swim, but also set your hunting dog.
Learn how to swim:
If you are near a body, you're going to need to learn how to swim. Whether it is deep or shallow, swimming skills can save your life or that of someone else. It is advisable if your hunting friends know as it's challenging to get everyone if one or even two of them don't know how to swim to shore, using instance, if a ship is capsizing how to swim. Before going on your boat, you should come up. Where's the shoreline if the boat is capsizing? And when this occurs, how can you return to the ship? You would like to think to be secure.
Never Carry a Loaded Weapon:
It is currently carrying a loaded firearm in a watercraft prohibited in many areas, but it's also dangerous. The results of an accidental discharge of a weapon in a vessel that is moving could be catastrophic. First, keep firearms unloaded, with the security in the "on" position, and preferably in a gun case. Until your ship has reached your hunting destination, guns stored, the engine is off, and the boat was secured, or anchor was deployed.
Conclusion:
Boat hunting is not just a game, but it is a matter of life and death as well. It is very important to take it seriously and follow safety tips to secure your life. A good hunter must keep in mind that what safety precautions he should know before going for boat hunting.
It does not matter how much experience you are; safety precautions are still as crucial for you as a beginner. It's impossible to know when a disaster will strike, but without knowing the threat, you should follow safety measures. You should have to get into a habit of taking these measures before going to boat hunting. In the end, I hope you have picked my point to secure your life. I wish you a pleased hunting trip. Good Luck for your journey.